Luxury Vinyl Flooring in Turlock, CA
Looking to invest in reasonably priced flooring accompanied by impressive durability? No other flooring option is increasing in popularity based on these two characteristics more than luxury vinyl flooring. Tri-County Flooring America carries a vast inventory of luxury vinyl flooring products that are sure to meet your needs in look, longevity, and affordability. Revitalize your home or commercial property and explore your design options with our stunning luxury vinyl floors. Visit our Turlock, California, showroom today to start your flooring renovation!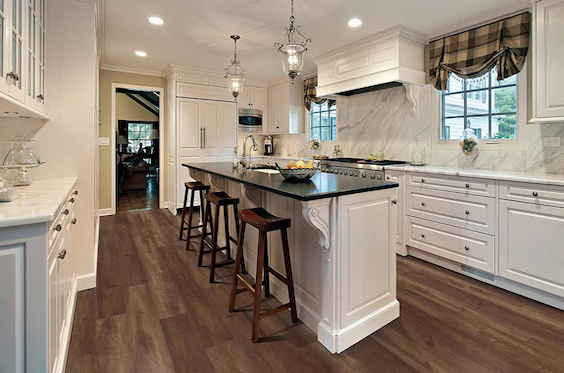 Luxury Vinyl Flooring Types Explained
Whether you are interested in a classic tile product, or you desire the appearance of weathered wood, you are sure to find the perfect vinyl at our store and showroom. We carry industry-leading luxury vinyl brands including Mannington, Mohawk, Downs, and more. The three leading luxury vinyl styles that we offer include:
Luxury Vinyl Tile (LVT)
Luxury vinyl tile mimics the shape, size, and look of high-end tile materials. This vinyl tile flooring even features texturing which feels like real tile. The proven durability and resiliency of vinyl tile make it ideal for wet areas such as the kitchen and bathroom. Timeless elegance is yours when you pick luxury vinyl tile. Tile flooring is a popular choice for its versatility, stunning visual appeal, and ease of maintenance.
Thanks to contemporary manufacturing methods, our collection of luxury vinyl tile (also known as LVT), is available in a wide array of colors and designs. LVT is also available in appearances that closely resemble ceramic, stone, and hardwood. These visual options allow you to diversify your design options while keeping costs manageable.
Luxury Vinyl Plank (LVP)
As the name indicates, luxury vinyl planks replicate the appearance of hardwood planks. With similar shapes, sizes, textures, and patterns, we guarantee you won't be able to tell the difference between natural wood flooring and vinyl plank flooring. Whether you want a rustic look with beveled edges or a classic, clean-looking wood floor, we have exactly what you need.
Hardwood is revered for its elegant aesthetics and warming character. However, its natural composition limits its installation in bathrooms, kitchens, and basements. If you want the stunning visual appeal of wood in these moisture-prone active areas, try our luxury vinyl plank flooring.
Sheet Vinyl Flooring
Looking for a seamless flooring solution for your kitchen or bathroom? Try sheet vinyl flooring. This material can be cut to the contours of your space for complete coverage. Sheet vinyl has gained a reputation for being a simple-to-clean material, making it the go-to choice for active households and commercial spaces alike. The pleasant heat retention and resilient feeling underfoot make sheet flooring a comfortable choice for kitchens, bathrooms, and other active spaces where utmost durability is a priority.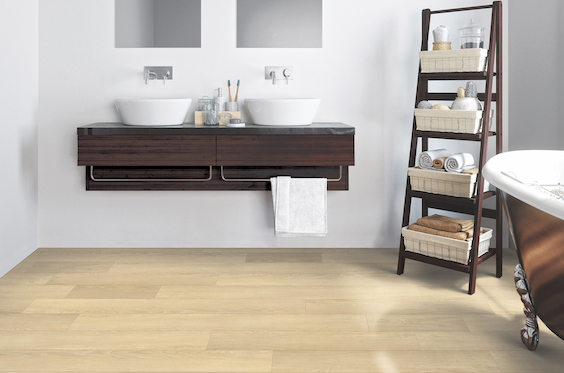 Benefits of Luxury Vinyl Floors for Your Turlock Property
Luxury vinyl has proven invaluable to families that lead busy lifestyles. With this advanced material, you no longer have to worry about the occasional spill or accidental drop. Luxury vinyl's resilience and flexible design options allow you to enhance the visual appeal of your property while also keeping up the pace with your family's daily activities. Our knowledgeable flooring associates would be more than happy to educate you about the benefits of installing vinyl floors throughout the entire home. Just some of these practical advantages include:
Resists staining, scratching, dents, and fading
Requires minimal maintenance and cleans easily
Holds up well under the activity of children and pets
Boasts long lifespan when cared for properly
Elevates the look, atmosphere, and resale value of your property.
Affordable vinyl solutions for any project and budget.
Variety of styles to match your dream interior design.
Comfortable underfoot and boosts insulation.
Selecting Luxury Vinyl Floors Made Easy
When you have all the resources and information available to make a smart purchasing decision, you are able to get the most out of your investment. Visit our luxury vinyl flooring center and plan your next remodeling project with us. We'll guide you through samples of the latest vinyl tile, plank, and sheet flooring.
Is Luxury Vinyl Flooring Waterproof?
Composed of four layers, luxury vinyl has a thicker wear layer that is waterproof. Unlike hardwood flooring, which may be susceptible to water damage and warping, LVP and LVT are suitable options for bathrooms and kitchens due to their high water resistance. The most robust luxury vinyl options include enhanced urethane, which will keep your floors looking new for years. Ask the professionals at our Turlock showroom about our waterproof luxury vinyl flooring options.
Professional Luxury Vinyl Flooring Installations
Our mission at Tri County Flooring America is a twofold commitment to exceptional service and customer satisfaction. Our staff includes store associates that can assist you in flooring selection and experienced technicians that provide lasting installations. We are equipped with the professional tools and experience to provide quick and efficient luxury vinyl flooring installations that look great and last.
Our vinyl flooring installation service is backed with our Adore Your Floor Guarantee. This industry-leading guarantee is included with every installation of our luxury vinyl flooring products. If you are unsatisfied with your new floors and contact us within 30 days of the installation date, we will replace them with a comparable vinyl product for free! If you're interested in floors that look and last the way you wish, vinyl flooring may be the perfect option for you. Simply contact our flooring store today to learn more about the practical benefits of vinyl from one of our knowledgeable professionals.
Contact us to learn more about our luxury vinyl flooring products and installation services. Our store proudly serves Stanislaus County, California, including Turlock, Ceres, Hughson, Modesto, Newman, California, and the surrounding areas.