Laminate Flooring in Turlock, CA
Looking to update your old, worn-out floors with stunning wood or natural stone laminate flooring? You've come to the right place! At TriCounty Flooring America, you'll find a vast selection of high-quality laminate flooring products and unmatched installation expertise. As a locally owned and operated Flooring America store, we offer the very best in personalized service and budget-friendly prices.
Our friendly flooring professionals will take the time to listen to your design goals and performance needs to guide you toward the perfect laminate selection that best suits your lifestyle. Visit our Turlock, CA, showroom to view our laminate selections and discuss your renovation project with our team!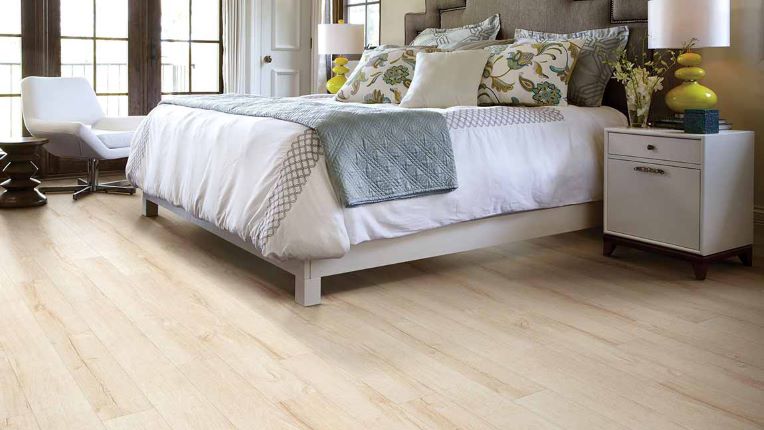 Types of Laminate Flooring Available
Many homeowners dream of elegant oak in their living rooms or sleek slate tile flooring in the bathrooms. However, these natural flooring options do not always cater to budget needs and require a higher level of maintenance. If you're looking to mimic the appearance of natural slate or exotic hardwood without the hassle of maintenance, laminate is an excellent budget-friendly option.
By shopping in our large warehouse showroom, you can take advantage of our low prices, outstanding service, and high-quality products. Our team of sales experts is here to help narrow down your quest to find the best laminate floors for your home. Learn about the types of laminate flooring available at our Turlock, CA location:
Wood Look Laminate Flooring
Composed of four durable layers, laminate wood floors offer the stunning texture, grains, knotting, and colors of real wood planks—with added waterproof durability. Perfect for upgrading a single room or your entire home, you can achieve your ideal hardwood flooring design with wood-look laminate.
Popular wood-look laminate choices include long, wide planks with a gorgeous beveled edge. From the rustic look of hand-scraped knotting and whirls to the more neutral clean wood patterns, you can find what you need at our Turlock flooring store.
Tile Look Laminate Flooring
Looking for a realistic natural stone, ceramic, or porcelain look? We carry a gorgeous selection of pet-proof, kid-proof tile looks with our laminate tile floors. Improve the look and feel of your bathroom, kitchen, or any room of your home with the elegant look of marble or the calming appeal of slate. Whatever aesthetic you desire, we have tile-look floors to capture your vision.
The Benefits of Laminate Flooring
At TriCounty Flooring America, we believe there is a beautiful flooring solution for every customer, no matter your budget. Laminate has quickly become one of our most popular flooring choices due to its versatility in design and exceptional oops-proof performance.
If you want affordable flooring without constantly worrying about everyday household mishaps, laminate may be the right choice for you. We carry only the best trustworthy laminate brands including Mohawk Revwood, Mannington Restorations, Inhaus, Republic, HF Design AquaProof, and more. Discover all the advantages of laminate flooring for your home or business:
Laminate is a durable material that holds up in moisture-prone areas like basements and kitchens.
This long-lasting floor follows a simple installation process, allowing you and your family to immediately start living on your beautiful new floors.
The stain, scratch, and water-resistant properties of laminate flooring make it an excellent low-maintenance option for an active home environment.
Laminate brings the natural design of wood or tile at a fraction of the cost.
As a natural insulator, you can spend less on energy costs with added sound-proofing benefits to your home.
Laminate is an ideal flooring choice for pet-proof performance.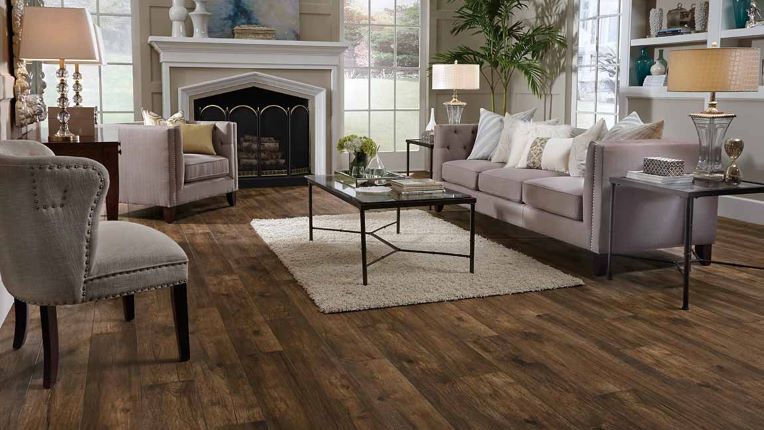 Laminate Flooring vs. Luxury Vinyl Flooring
When it comes to choosing between laminate and luxury vinyl flooring for your Turlock property, there are key distinctions to consider. Both options share a common structure consisting of four engineered layers. However, the core material sets them apart. Laminate flooring features a core made from wood byproducts, providing water resistance but not complete waterproofing across the entire plank. In contrast, luxury vinyl boasts a waterproof rigid core, making it especially well-suited for areas prone to high moisture levels.
Additionally, it's worth noting that laminate flooring typically comes at a slightly lower price point compared to luxury vinyl. Both choices offer excellent solutions for enhancing your property's aesthetics and functionality. Our knowledgeable team is ready to assist you in determining which flooring type aligns best with your specific project requirements and lifestyle preferences.
Expert Laminate Flooring Installation Services
With the newest developments in flooring installation technology, laminate flooring installation is a breeze. Now, with a simple click-lock system, your laminate floors can be installed with speed and accuracy over almost any subfloor. This simple tongue-and-groove system enables our installers to assemble your new flooring like a jigsaw puzzle, giving you the confidence of a seamless match without the delay and hassle of custom fitting. This quick technique ensures a smooth appearance and removes the possibility of your floors warping or reshaping.
With our unbeatable prices at TriCounty Flooring America, you don't have to spend a lot of money on a big installation project. Our experienced installers will be in and out of your home before you know it. Thanks to our installers' effectiveness, you can save money on both materials and labor. We believe so strongly in your satisfaction that we back each installation with our Adore Your Floor Guarantee. If you are not fully pleased with your new laminate floor, we will replace it with an equal or lower-value floor option entirely free of charge.
Contact us to start your laminate renovation project today! We proudly serve Turlock, CA, and the greater Stanislaus County area.