Hardwood Flooring Turlock, CA
Accentuate the atmosphere of any room with the timeless elegance of hardwood flooring. This warm and luxurious option for floor covering adds value and appeal to your home in no time. And with the broad array of choices in hardwood at our expansive showroom, you are sure to find the look and feel you have always wanted.
Add an air of sophistication to your living areas with our selection of wood floor varieties. Personalize the look of your home with your choice of stain and texture. In addition, we can cover any room you have in mind – no matter the size. Most importantly, our excellent prices help you expand your design plan. With the affordable floors we offer, you have the option to get the ideal floor for your home.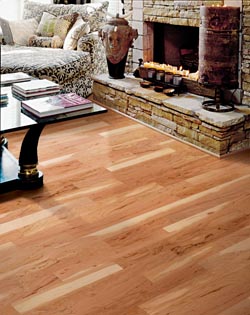 Value-Added Options for Engineered Hardwood Flooring
Experiencing the difference that wood flooring makes in your home doesn't have to cost you a fortune. Your hardwood dreams become a reality when you choose from our vast selection of engineered hardwood flooring. Engineered hardwood is easier to clean, and it will retain its appearance for years to come. Don't feel the need to sacrifice the quality you want because of any limitations in your budget.
With the additional money you save on the price of this flooring option, you can expand the reach of your design plan. This flooring option is also more environmentally friendly, which helps you support a greener planet. We offer as many eco-friendly options as possible, so that our customers can do their part to leave a cleaner planet for the next generation.


Stunning Solid Hardwood Flooring
Make a statement about your approach to interior design with stunning and durable solid hardwood flooring. Solid hardwood is versatile and accentuates a broad array of design styles that you want. This flooring also stands the test of time. Let us help you choose the right style and color. We have so many products to choose from that you're sure to find a floor that meets your exact needs.
Whether your style is rustic, contemporary, or modern, we have a choice that fits perfectly with your décor. If you prefer a more traditional or Victorian approach, let us know. We'll guide you in the right direction. Solid hardwood is also perfect for those homes with a craftsman or bungalow feel to them.
Your choice of options can sometimes be overwhelming, and that is why a knowledgeable and friendly design professional is always ready to educate you on the different types of hardwood flooring. Each and every member of our team is dedicated to personalizing your flooring choice for you and your distinctive approach to style. Our focus is on getting the right match for your particular lifestyle. Our selection includes options such as:
Oak
Ash
Maple
Cherry
Brazilian
Bamboo


Why Choose Our Hardwood Floors?
You shouldn't have to sacrifice quality for affordability. Even though our rates are reasonable, all of our hardwood floors deliver the longevity, durability, and beauty that you would expect from premium flooring alternatives. Get the most for your design dollar, and enjoy the warmth and lasting beauty that hardwood flooring affords you.
By harnessing the global buying power of the Flooring America franchise, all of the name-brand products we sell are available at incredibly low prices. This, along with our commitment to customer satisfaction, has made us a leader in the local residential flooring market.


Hardwood Floor Installation That Makes a Difference
With our complete commitment to your satisfaction, you get the assistance you need at every step of the process. To get the most out of your flooring investment, we provide you with the finest hardwood flooring installation available.
Professional hardwood floor installation ensures your floor fits perfectly. It also makes sure your avoid repair costs down the road. Protect your flooring from moisture damage and warping due to improper installation. Our skilled floor installers can do the job correctly and efficiently.
Sometimes it's hard to determine just how much you love your new flooring until you finally see it in your home. We understand this. That is why we back every hardwood floor installation with a satisfaction guarantee. Within 30 days of the install, if you are dissatisfied with your new floors, contact us. We offer a special Ultimate Confidence Guarantee for all of our customers. If you do not like your floor for any reason, we will replace it for you at no additional cost with a similar product of equal or lesser value.



Contact us today for a free estimate on the hardwood flooring that can transform your home. We proudly serve customers in Turlock, California, and surrounding areas.