Hardwood Flooring Turlock, CA
Get everything you need for a truly remarkable interior when you begin your design journey at Tri County Flooring America. We go the extra mile to ensure you get informative design assistance and stunning hardwood flooring in Turlock, CA. The selection at our showroom is sure to feature the style and texture you need for your design plan.
Tell us more about your interior and let our design team suggest a series of options that fit your approach to decorating and your available budget. With our Five-Star Selection System, we make it easy to find the type of flooring you want, and the installation warranties and price protection guarantees you need. Once you find the floors that match your specifications, you can arrange installation on your terms.
From the moment you walk through the doors of our showroom, you get the support needed to make your next project a success. Finding the right flooring for a home interior can quickly become overwhelming without the reliable design assistance, and installation support delivered every day by our team of wood flooring specialists.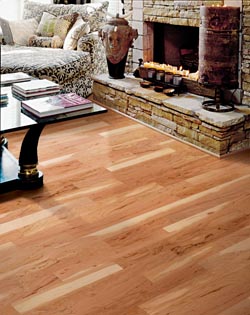 Find a Hardwood Floor That Fits
Choosing the right wood flooring product for your home or office environment can prove more complicated than it looks. When you plan your redecorating project in conjunction with a design specialist, you can identify the flooring types that work best in each room.
Our selection includes a number of species that expand and contract at different rates when exposed to sunlight and moisture. Depending on the location of the room in question and the style you want may not be the best option. We are ready to educate you on the best options for each room. When you choose engineered hardwood for the upstairs hallway, you can use the money you save to purchase the stunning solid hardwood you want for your formal dining room.
Installing Hardwood Floors
When it comes to getting the best fit on the customer's terms, our contractors are ready to make a difference. Going with our installation team is a smart move for anyone looking to get the most from their flooring investment. You can avoid the potential for warping and other damage when you choose a proven contractor from our group.



Contact us today for a free estimate on the hardwood flooring that can transform your home. We proudly serve customers in Turlock, California, and surrounding areas.